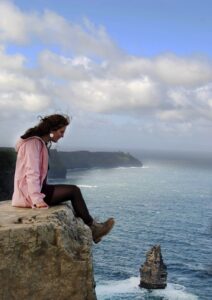 My name is Stefanie Huber and I am a student from Austria. I have been working for EssentialSkillz for two months now on a six-month internship as part of my university course. The Bachelor's programme at my University is called 'Communication and Knowledge Media' and includes a lot of different modules such as Programming, Usability Tests, Design and Learning Psychology.
My internship at EssentialSkillz combines many of the core areas that I am learning in university. My role consists of designing and developing a wide range of eLearning courses for businesses (eg Health & Safety, Business Protection or DSE Training). After a course has been written by the Instructional Designers, the Content Developers, like myself, program and design each course slide. This work includes coding in HTML, CSS and JavaScript, and using creation tools such as PhotoShop, Illustrator or Cinema4D. I really enjoy the creative aspect of my job and that it allows me to exercise my skills from University in a real-world setting. 
I often get asked the question: "But why Galway?" It was at the time I started thinking about going abroad for my internship a year ago, that my younger brother had just returned from a school trip to Ireland. He was absolutely stunned by the beautiful landscapes, the Guinness beer and how friendly the Irish were. His experience in Galway solidified my decision to move there for my internship. I found EssentialSkillz was one of the leading eLearning companies in Ireland, so I applied and soon afterwards was offered the internship!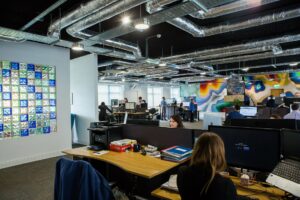 The company helped me settle into Galway and hosted many fun activities as part of their sports and social club. I've been to cocktail making nights, painting events, BBQs and wine appreciation courses along with some of my other colleagues, all of which I have really enjoyed. There are always new things for me to do!.
Apart from the in-house activities with EssentialSkillz, there are a lot of other things for people to do and see in and around Galway. Whenever possible, I try to explore new areas and sights. One of my favourite experiences so far was going to the Cliffs of Moher. It is only about 1.5 hours drive from Galway city and when arriving there it feels like stepping onto the edge of the world.
An average Saturday night in Galway might include going out to a pub with your friends, having a pint and listening to live music. This is something that I will definitely miss when going back to Austria.
So if you are thinking of travelling to Galway or working here, I highly recommend you to do so. The only things you really need are a rain jacket and a few coins in your pocket for the great buskers around every corner in town. Personally, I never would have thought that I could feel at home in two different countries, but this place really stole my heart. So when people ask me now "But why Galway?", I just reply "Why not?".