Online DSE Training & Risk Assessment
Train your employees effectively and help them stay safe in the workplace with ErgoWize. Easily identify, manage and eliminate risk and streamline your entire DSE compliance process from our versatile management platform.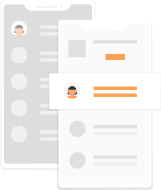 | | |
| --- | --- |
| 1 | Streamline your entire DSE training and management process. Automatically enrol employees on training during onboarding. |
| | |
| --- | --- |
| 2 | After training, employees complete a DSE risk assessment that helps them self resolve low-level issues and escalate high-level risks to admins. |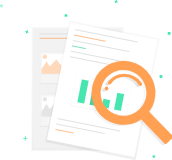 | | |
| --- | --- |
| 3 | Using our versatile dashboard, administrators can prioritise, manage, and resolve risks and compile actionable reports to eliminate DSE issues. |
Try our Online DSE Training and Assessment course
Our dedicated DSE Training and Risk Assessment course highlights various health issues that can develop from regular use of screen equipment including desktops, laptops, tablets and mobile phones.
Automate your DSE management process
Fully automate time-consuming tasks and free admins up so they can focus on the things that matter most.
Instantly onboard new users, schedule regular training, send notifications and easily identify areas of non-compliance. Experience all of the benefits of effective administration with none of the hassle.
Make your training your own
Maximise engagement with our fully optimised DSE training and risk assessments or create your own in minutes- not days.
From adding new text to images, videos, interactions and more, our course and risk assessments can be fully edited by you to reflect the needs of your workplace. Swiftly develop unique content and instantly roll it out across your organisation.
Free 30-day trial of our Online DSE Training
Action swift risk resolution
Our ErgoWize risk assessments empower users to self resolve low-level problems, leaving administrators free to tackle high-risk issues.
Easily identify workstation hazards, prioritise them and instantly move to resolve any issues. Send regular updates to affected users to keep them informed every step of the way.
Highly configurable reporting as standard
Our dynamic reporting dashboard allows organisations to make informed and data-driven decisions on their compliance process.
Compile data based on individuals, groups and divisions, filter through custom fields and bring your data to life with a suite of visual graphs to help your team identify issues, highlight trends and track compliance across your organisation.
Love our features but already have an LMS in place?
From creating new content to resolving risk or automating your training process, our key features can be integrated into your existing system, so you can get even more out of your compliance training.
DSE training forms a key part of workplace health and safety. But why do employers need it? And who does it apply to?
We answer some key questions on DSE training and, risk assessment and outline why it's important for your organisation.
Here are even more benefits
Fully Customisable
Maximise engagement with interactive and engaging scenario based training.
Regularly Updated
Our DSE training is fully optimised & regularly updated to comply with current legislation.
RoSPA Approved
All of our courses are RoSPA approved, ensuring you receive the highest standard of training.
Health Advice
From stretches to rest breaks, our DSE training helps users to stay active and healthy in the workplace.
Q&A Bank
Use our Q&A bank or add your own. Set essential questions so that users understand the key health and safety issues.
Easy Set-Up
Instruct users in the correct set-up and use of their workstation, so they can keep performing at their best.
Why not experience ErgoWize for yourself?
5 reasons why Online DSE Training and risk assessment is important for success
Technology is amazing. It has the capacity to enrich our lives and make our work easier and more productive.
But as organisations become ever more reliant on technology, the use of display screen equipment (DSE) and the amount of time we spend using it, is on the rise.
That's where DSE training comes in to play. But many organisations see the practice as just another box-ticking exercise and don't realise the positive impact it can have not only employee safety but on their bottom line.
We explore 5 reasons why online DSE training and assessment can be an effective investment for organisational success.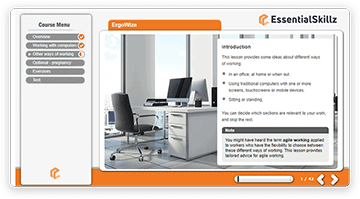 A simple solution with a big impact
Organisations always strive to be more efficient, conducting audit after audit to find areas where processes can be streamlined and ROI improved.
But for all the auditing and analysis, one of the best places to start is right on the frontline – in the office.
As the HSE highlights, effective DSE training can have a positive impact on the workplace in direct and indirect ways. It can help improve employee health, boost productivity and reduce health-related absences.
In short, DSE training is a simple and effective method that organisations can use to help protect their employees and their ROI.
Healthy employees are happier employees
It goes without saying that for a business to thrive, you need thriving employees, and DSE can have a big impact on employee wellbeing.
Year on year reports by the Health and Safety Executive note that employees report high levels of related to DSE related issues, with headaches, soreness and eye strain serving as a common denominator in cases of absentee and presenteeism. And these are only a small number of concerns that relate to DSE; prolonged and unregulated use can lead to ongoing neck, shoulder, back, arm and wrist issues.
A dedicated and actionable approach to DSE training can significantly reduce health-related issues which can increase productivity and efficiency, greatly improve morale and have a positive impact on employee wellbeing.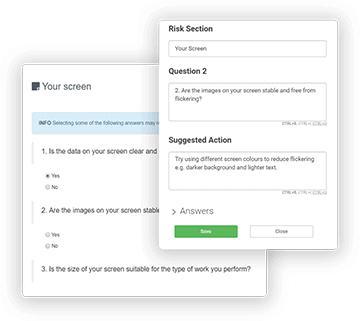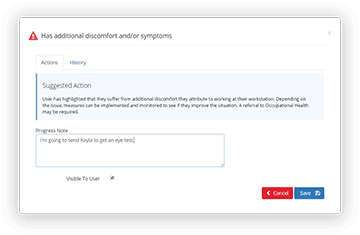 Keep pace with technology
The role of technology is constantly changing as new and improved processes become available. Work tasks that once required large, dedicated set-ups can now be completed on increasingly smaller devices, and they can be used virtually anytime, anywhere.
From desktops and laptops to tablets and smartphones and even VR headsets, administrators should ensure that training reflects the diverse array of technology that falls under DSE regulations and that employees receive training that's relevant to their needs.
While it's exciting to see so many organisations increasingly being to explore the benefits of emerging technology, it's clear that DSE training must evolve with developments in the workplace in order to effectively safeguard employee health and wellbeing.
Screen-based tech has not only changed how we work but the way we work as well. The rapid evolution of internet connectivity has given rise to flexible workstyles that move beyond the traditional office space.
Today, many organisations have begun to explore these new methods of working, from open-plan offices to agile working and hotdesking, to name a few.
With so many organisations exploring beyond the confines of the office, the ability to ensure that every employee has a safe and effective set-up can be a gargantuan and costly task.
How do you assess multiple user setups across a wide array of unique needs and requirements?
Simple. By moving the process online.
On online solution means that from home workers to digital nomads, every employee will be able to complete DSE training and risk assessments that are tailored to their work style, and administrators are able to effectively manage DSE compliance.
As the contemporary workplace dynamics continue to evolve, it's crucial that organisations invest in an effective DSE solution that's not only relevant but can adapt to rapid changes that take place in the workplace.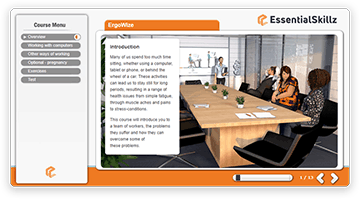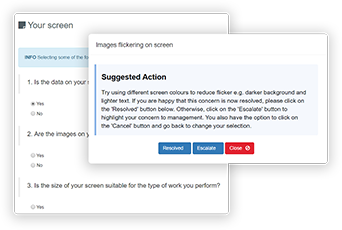 Effective DSE management in one place
Moving training and assessment online to reach employees on an organisational level is an effective way to manage DSE in the workplace, but there are other benefits the move can bring.
Chief among them is the ability to direct and manage everything from one, central platform. By moving online, organisations are not only able to train hundreds or even thousands of employees and assess their needs, but significantly cut down on administrative time, cost and resources in the process.
It also makes reporting on organisational DSE compliance performance easier and more transparent. Relevant DSE data can be collated and broken down so administrators can gain insight into how effective their DSE performance is and where it can be improved.
Ultimately, a strong commitment towards DSE compliance training can have a far-reaching and positive impact on organisations in a variety of ways. As a result, any enterprise in which DSE plays a major role should consider it an important and necessary part of their ongoing compliance strategy.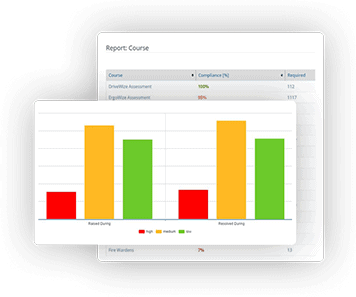 Have a question? Speak to our support team
Loved by users, trusted by enterprises
We're proud to work closely with organisations from around the world to deliver a tailor-made user experience that's right for them